Having trouble getting your students to relate to climate change? Do they feel overwhelmed like there is nothing they can do?
We can help!
Using wildlife as an integrating context can help make teaching about climate change more concrete. Use best practices in climate change education and gain access to quality, science-based, wildlife management principles that address this complicated issue. Your students will be outdoors, interacting with one another and the community, and learning from trusted sources.
Find out how federal, state, and tribal agencies plan to tackle managing wildlife in a changing climate:
"You can't go back and change the beginning,
but you can start where you are and change the ending." ~ C.S. Lewis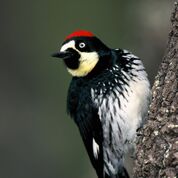 Acorn woodpecker. Photo credit: George Andreiko, Arizona Game & Fish
Make it Happen!
Take part in an an amazing workshop, where you'll learn about local educator resources.
Take action! Create a habitat on your school site: build nest boxes, conduct a stream clean-up, or plant native plants.