In light of the COVID-19 pandamic, Project WET and Project WILD will offer an online meeting for coordinators during the below dates and times. We will plan to meet in person in Springfield, Missouri, in 2021.
Tuesday, July 28

2:00-4:30pm, Eastern Standard Time (EST)

Welcome*
Keynote*
Regional Roundtables
Coordinator Awards

Wednesday, July 29

1:00-3:00pm, EST: Project WILD Business Meeting
2:00-4:00pm, EST: Project WET Business Meeting
4:15-5:15pm, EST: Virtual Hospitality Suite

Thusday, July 30

2:00-2:45pm & 3:00-3:45pm EST: Concurrent Sessions*

Track 1: Climate
Track 2: Water and Wildlife
Track 3: Expanding Your Educational Reach
Track 4: Triple the Fun (WET, WILD, PLT)

4-4:30pm, EST: Closing "Banquet" - Bring a beverage and snack!
*Project WILD Facilitators are welcome to join for Tuesday's keynote and Thursday's concurrent sessions.
Join us for our 38th annual meeting of Project WILD coordinators as we learn, collaborate, and strengthen our conservation education network along with Project WET coordinators!
Registration
Coordinators will need to register for each session individually, as each Zoom session is distinct (Opening Session, Business Meeting, Concurrent Sessions, etc.). Coordinators will be emailed registration details on July 2, 2020. You can also use the conference app (see below) to find the same information.
Keynote - "Semper Gumby: Adapting an EE Program During a Pandemic" with Karen McDonald
After a welcome and opening remarks from Project WET and Project WILD leadership, Karen McDonald, Education Specialist at the Smithsonian Environmental Research Center, will give a keynote presentation on Tuesday afternoon:
At the Smithsonian Environmental Research Center (SERC) we use the term "Semper Gumby" to refer to always being flexible. That motto, and attitude, is what has sustained our environmental education program during the pandemic. In this talk I will share with you how we've kept a volunteer core engaged, worked on adapting curriculum, some of the platforms we've discovered, and how we're planning for the future. To highlight some of these points I'll use our river otter program as an example.

Karen McDonald is the Education Program Coordinator at the Smithsonian Environmental Research Center (SERC) in Edgewater, MD. Karen runs the K-12 educational programs at SERC, ranging from coordinating with teachers to training over fifty volunteers to lead programs. SERC serves over 5,000 children a year in meaningful hands-on science education outside and on the water. Karen also develops curriculum and professional development training for teachers.

Previously, Karen was the Unit Coordinator for the Smithsonian Science Education Center (SSEC), managing the development of science education units. She has also written as a freelance curriculum developer for the Discovery Channel. Prior to this, Karen was the Outreach Education Coordinator for the Smithsonian Environmental Research Center for 8 1/2 years. In the Outreach role, she started and managed a new outreach program for SERC and maintained a successful science program for group, pre-K, home school, and the general public.

Karen has a love of nature that she shares through her teachings and blog for naturalists and outdoor educators, called the Infinite Spider http://www.theinfinitespider.com. In her spare time she hikes, draws, paddles, takes photos, and reads anything from philosophy to science fiction.
Coordinator Awards
Tuesday's meeting will also feature the presentation of Project WILD and Project WET coordinator awards. Project WILD will celebrate milestones in years-of-service for our coordinators and honor one coordinator as the 2019-2020 Outstanding Coordinator.

Business Meetings
Project WILD and Project WET Coordinators will have separate business meetings to discuss each Project's program. These sessions are for Project WET and Project WILD coordinators only. The sessions are staggered to allow individuals who coordinate both programs in their state to attend portions of each meeting. The meetings will be recorded. This time is alotted to discuss your program with other coordinators and Project WET or Project WILD staff and to help shape the future of each program in the coming year. At the Project WILD annual business meeting, AFWA's Project WILD staff will provide an overview of the past year, including guide sales, new sponsor agencies, curriculum updates, online initiatives, and more.
Facilitator Awards
At the end of our Project WILD Business Meeting, we will also take time to honor the Facilitors of the Year from various states across the country. We look forward to acknolwedging and commending their hard work and impact towards building a more conservation-literate citizenry!
Whova Conference App
With Project WET's help, we will have a conference app this year! Please download the app Whova to your smartphone or tablet to stay connected. Be sure to sign in to Whova before the virtual meeting and edit your information so everyone can find you! You can log in with your email or the code WETWILD2020.
In the Whova App you can view the agenda, speaker information, attendee bios, see last minute updates, upload pictures, and give feedback on sessions. For more information, and to watch a brief tutorial on Whova, click here. If you don't have a smartphone, you can still access the agenda and speaker information through the Whova WET & WILD website. Please note that we will be updating agendas and speaker bios as sessions are confirmed.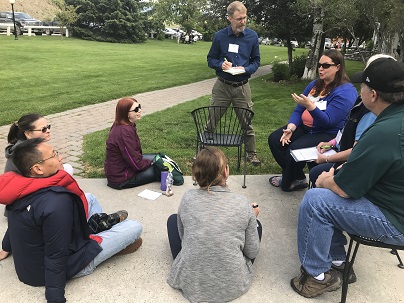 Questions?
Call Kelly at (713) 501-3294 or email kreynolds@fishwildlife.org.
Conference Information for Project WET Coordinators is available on Project WET's website.