In light of the COVID-19 pandamic, Project WET and Project WILD will offer an online meeting during the below dates and times. We will plan to meet in person in Springfield, Missouri, in 2021.
Tuesday, July 28

2:00-4:30pm, Eastern Standard Time (EST)
Welcome, Keynote, Regional Roundtables, Coordinator Awards

Wednesday, July 29

1:00-3:00pm, EST: Project WILD Business Meeting
2:00-4:00pm, EST: Project WET Business Meeting

Thusday, July 30

2:00-4:30pm, Eastern Standard Time
Concurrent Sessions
Join us for our 38th annual meeting of Project WILD coordinators as we learn, collaborate, and strengthen our conservation education network along with Project WET coordinators!
Registration
Details coming in June.
Keynote & Coordinator Awards
After a welcome and opening remarks from Project WET and Project WILD leadership, Karen McDonald, Education Specialist at the Smithsonian Environmental Research Center, will give a keynote presentation on Tuesday afternoon.
Tuesday's meeting will also feature the presentation of Project WILD and Project WET coordinator awards. Project WILD will celebrate milestones in years-of-service for our coordinators and honor one coordinator as the 2019-2020 Outstanding Coordinator. Please review the criteria (outlined on the nomination form) and consider nominating yourself or a fellow coordinator for this award by submitting this form by June 8. Click here for a list of past recipients. If you are unable to use Google Forms, email Kelly at kreynolds@fishwildlife.org.

Business Meetings
Project WILD and Project WET Coordinators will have separate business meetings to discuss each Project's program. These sessions are for Project WET and Project WILD coordinators only. The sessions are staggered to allow individuals who coordinate both programs in their state to attend portions of each meeting. The meetings will be recorded. This time is alotted to discuss your program with other coordinators and Project WET or Project WILD staff and to help shape the future of each program in the coming year. At the Project WILD annual business meeting, AFWA's Project WILD staff will provide an overview of the past year, including guide sales, new sponsor agencies, curriculum updates, online initiatives, and more.
Facilitator Awards
During our Project WILD Business Meeting, we will also take time to honor the Facilitors of the Year from various states across the country. We look forward to acknolwedging and commending their hard work and impact towards building a more conservation-literate citizenry. Please submit your state's facilitator of the year using this form by June 8. If you are unable to use Google Forms, email Kelly at kreynolds@fishwildlife.org.
Whova Conference App
With Project WET's help, we will have a conference app this year! Please download the app Whova to your smartphone or tablet to stay connected. Be sure to sign in to Whova before the virtual meeting and edit your information so everyone can find you! You can log in with your email or the code WETWILD2020.
In the Whova App you can view the agenda, speaker information, attendee bios, see last minute updates, upload pictures, and give feedback on sessions. For more information, and to watch a brief tutorial on Whova, click here. If you don't have a smartphone, you can still access the agenda and speaker information through the Whova WET & WILD website. Please note that we will be updating agendas and speaker bios as sessions are confirmed.
Important Dates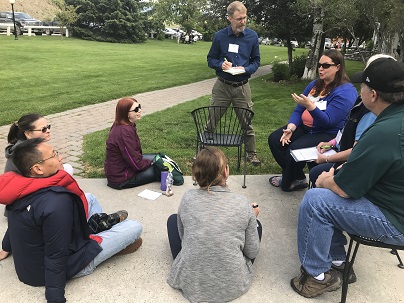 Virtual conference: July 28-30
Awards nominations: Monday, June 8
Questions?
Call Kelly at (713) 501-3294 or email kreynolds@fishwildlife.org.
Conference Information for Project WET Coordinators is available on Project WET's website.