The Climate Adaptation Leadership Awards (CALA) celebrate outstanding efforts to increase the resilience of America's valuable living natural resources and help sustain the many people, communities, and businesses that depend on them. Established in 2016, each year CALA recognizes exemplary leadership by individuals, agencies, Tribes, businesses, and other organizations to reduce impacts and advance adaptation of the nation's fish, wildlife, and plants in a changing world by helping address the goals of the National Fish, Wildlife, and Plants Climate Adaptation Strategy. Award winners are celebrated each year in conjunction with AFWA's annual meeting.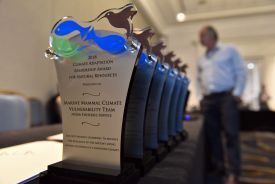 Fish, wildlife, and plant resources provide billions of dollars in economic activity, millions of jobs, and many other important benefits and services to Americans every year including food, clean water and air, building materials, storm protection, tourism, and recreation. The Award recognizes efforts to reduce impacts and sustain these resources and the ecosystem services they provide.
For more information, read the Award FAQ and the Award Eligibility Requirements and Criteria.
---
Award winners have been recognized for:
raising awareness about the urgent need for climate adaptation,
collaboration and ingenuity in advancing our understanding of climate impacts and vulnerabilities,
climate adaption research and the synthesis of science for use by natural resource managers,
establishing networks of scientists, managers, and policymakers to facilitate communication, exchange of knowledge, and the co-production of knowledge.
operationalizing policy to support climate adaptation in fish and wildlife management,
incorporating community members into planning and efforts to address climate change,
developing climate adaptation menus to inform on-the-ground adaptation actions,
creating tools for tribal communities to conserve their unique natural and cultural resources,
increasing the awareness and capacity of decision makers to respond to climate impacts,
and much, much more!
Read about all past award winners and their efforts to increase resilience of fish, wildlife, and plants in a changing climate.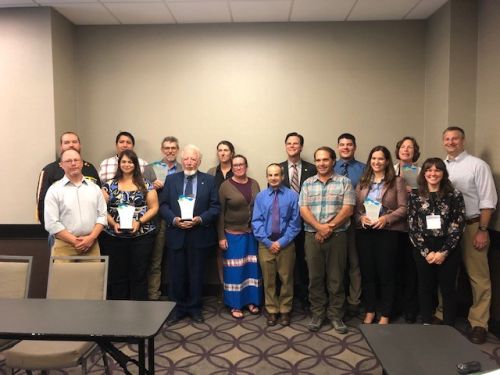 ---
The Climate Adaptation Leadership Awards are guided by the Climate Adaptation Leadership Awards Steering Committee and is made up of representatives from the Association of Fish and Wildlife Agencies, various Federal agencies including the U.S. Geologic Survey and the National Oceanic and Atmospheric Administration; non-governmental organizations including the Institute for Tribal Environmental Professionals and Great Lakes Indian Fish and Wildlife Commission, and past award winners.
For questions about the awards or nomination process, please contact Jacob Blandford, jblandford@fishwildlife.org